---
Texas Glory Adkins
Organizational Tryouts
August 15th & 16th
Registration Form
18U
Tryouts - 08/15/2015 9am-12pm
Pitcher/Catcher Registrations 8:00am
Position Player Registrations 8:30am
Bakersfield Park, Flower Mound
1201 Duncan Lane, 75028

---

Call-Backs - 08/16/2015 9am-12pm
Bakersfield Park, Flower Mound
1201 Ducan Lane, 75028

16U
Tryouts - 08/15/2015 9am-12pm
Pitcher/Catcher Registrations 8:00am
Position Player Registrations 8:30am
Bakersfield Park, Flower Mound
1201 Duncan Lane, 75028

---

Call-Backs - 08/16/2015 9am-12pm
Bakersfield Park, Flower Mound
1201 Ducan Lane, 75028
Registration Form
14U
Tryouts - 08/16/2015 4:00pm-7:00pm
Pitcher/Catcher Registrations 3:00pm
Position Player Registrations 3:30pm
Bakersfield Park, Flower Mound
1201 Duncan Lane, 75028

---

12U
Tryouts - 08/16/2015 5:00pm-8:00pm
Pitcher/Catcher Registrations 4:00pm
Position Player Registrations 4:30pm
Bakersfield Park, Flower Mound
1201 Duncan Lane, 75028

---

Registration Form
10U
Tryouts - 08/15/2015 4:00pm-7:00pm
Pitcher/Catcher Registrations 3:00pm
Position Player Registrations 3:30pm
Bakersfield Park, Flower Mound
1201 Duncan Lane, 75028

---

8U
Tryouts - 08/15/2015 4:00pm-7:00pm
Player Registrations 4:00pm
Bakersfield Park, Flower Mound
1201 Duncan Lane, 75028

---
---
Congratulations to Jacie Hall of TGA 12U Milligan, was selected to represent the 11U Midwest All American team in the 2015 All American Games taking place July 13 -16, 2015 in Kissimmee, Florida. Her hard work and superior talents did not go unnoticed. CONGRATS!!!
---
D2 All American, Taylor Davis, joins Coaching Staff of 18U Texas Glory Adkins Barrera. Taylor is also available for Hitting and Catching Lessons Contact Coach David Barrera foer more info. Coach David Barrera (817) 602-4617
---
Congrats to our very own Missy Wise for being named to the USSSA Elite Select All American Midwest Regional team as a TOP PERFORMER. She will compete this July in the All American games in Orlando! Please join me in congratulating Missy who plays on our TGA 14U Bingham team.
---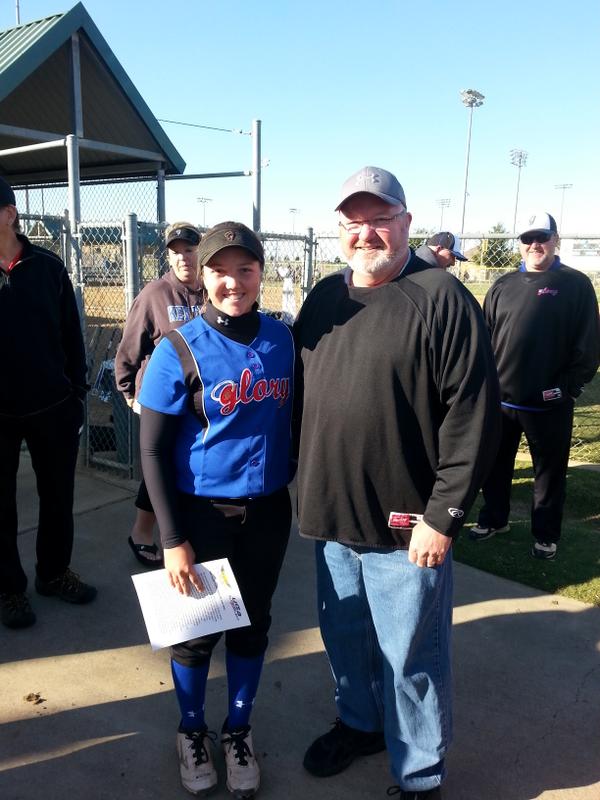 Jacey Allen, from our TGA 18U Gold team, wins $1,000 Scholarship at Top Gun Event. Congrats to Jacey Allen.
---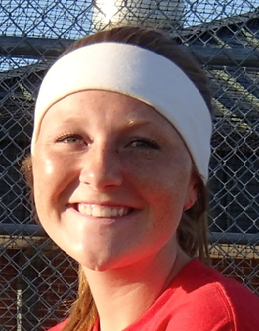 TGA HOUSTON is proud to announce that Kaitlyn Stebelton was awarded a spot on the Under Armor National Team
---
Come watch TGA in our 2015 Tournaments
Colorado Fireworks - Aurora, CO June 29-July 5, 2015
Colorado Sparkler - Westminster/Hyland Hills, CO June 29-July 5, 2015
Colorado Sparkler Jr. - Northern Colorado, CO June 29-July 5, 2015
TCS Nationals - Reno/Tahoe, NV July 14-17, 2015
ASA 16-U Gold Nationals - Salem, OR July 19-25, 2015
ASA 18-U Gold Nationals - Hillsboro, OR July 19-25, 2015
PGF 18U National Championship - Huntington Beach, CA July 24-31, 2015
USA Softball Junior Olympic Cup - Chino Hills, CA July 26-Aug. 1, 2015
PGF 14U & 16U National Champ. - Huntington Beach, CA Aug. 1-8, 2015
---
Texas Glory Adkins News
---
---
Louisville Slugger and Schutt Sports
team up with Texas Glory Adkins
---
*PLAYER VERBALS*
2018
Kayla Kowalik - University of Kentucky
Kaira Pittsinger - University of Texas

2017
Hannah Fisher - Harding University
Bailey Longoria - Texas A&M Kingsville

2016
Jacey Allen - Missouri S&T
Samantha Bradley - University of Louisiana - Lafayette
Devon Cantu - University of Iowa
Bailey Church - Lee University
Michaela Cochran - Texas Tech Univ
Tuesday DerMargosian - University of Texas
Megan Gordon - Angelo State University
Maribeth Gorsuch - LSU
Avery Grimes - UTA
Kendall Jones - Northwestern Oklahoma State
Claire Lefner - Tarleton State
Paige Lilly - Southwestern Oklahoma State
Morgan McCallum - University of Kentucky
Karlie Milburn - East Central Oklahoma
McKenna Moore - Weatherford College
Cassie Roche - Northwestern Oklahoma State
Sydney Springfield - LSU
Reagan Wright - Texas Tech Univ

2015
Tucker Caraway - University of South Alabama
Destiny Chavarria - Texas Southern Univ
Sierra Hanes - Grayson College
Julia Hollingsworth - University of Tulsa
Mauriana Jamele - Wichita State University
Summer Quiroga - Northern Oklahoma College
Sierra Sanchez - Capital University
Caleigh Sparks - Stephen F Austin
Aubree Spasic Wichita State Univ
Allison Turner Abilene Christian Univ
Brie Wrobel Southern Arkansas

2014
Kelsie Land - Nyack College
Delaney Bedunah - Ouachita Baptist
Miranda Dupree - Arkansas Tech Univ
Hailie Henson - Univ of Central Florida
Matti Johnson - Dodge City Coll
Kayleigh LeBlanc - Texas A&M Comm
Kaleigh Lightsey - Abilene Christian
Mary Moran - Arkansas Tech Univ
Jessica Orozco - Southwest Christian
Logan Pennartz - Grayson College
Noelle Perritt - LeTourneau University
Alex Schnieder Texas Tech Univ
Elizabeth Souza - Arkansas Tech Univ
Kaylee Strickland - Texas Tech Univ
Jacie Thomason - Lubbock Christian
Baylee Travers - Abilene Christian
Chynna Usrey - McNeese State
Cheyenne Wicker - Grayson College
Alexa Wimberly - Arkansas Tech Univ

2013
Morgan Ashmore - Howard Payne
Kennedy Been - Arkansas Tech Univ
Madison Calvert - Missouri Baptist U
Lauren Camacho - Marion Military Inst
Ashley Fultz - Texas Tech Univ
Kolbee Gray - Cameron University
Nikki Hebert - Letourneau University
Brittany Lee - Texas Tech University
Macy Nantz - Ouachita Baptist Univ
Baylee Voight - Midwestern State
Devon Walter - Univ of Texas - Tyler
Megan Washum - Evangel Univ
Susan Welborn - Texas Tech Univ

---
Thanks to Glory Alumni Lisa Johnson for this video
---
---